Would you like to walk to the fabled Inca ruins of Machu Picchu and NOT have to share the trail with 500 other people and NOT have to sleep in a tent every night, plus be forced to eat delicious gourmet food every day……..????  Well, have I got the trek for you!
I recently took a group on the Salkantay Luxury Lodge Trek.  This is an amazing 7 day walk through snow capped mountains, ancient ruins and lush jungle.  Accompanied by our two excellent guides we walked through amazing scenery and only had to share it with local villagers and their trusty pack pony trains, soaring condors riding the early morning thermals and the fresh mountain air.  Mountain Lodges of Peru have exclusive rights to build in the national park that encompasses the trekking trail.  They have built 4 exquisite lodges to accommodate only 12 trekkers.  There are a smattering of other operators that offer small group camping treks but because of the locations of their campsites and the logistics of everyone's walking day these camping trekkers are rarely spotted by the lodge dwellers!  We virtually had the trails to ourselves and the peace, tranquillity and grandeur of the mountains was enhanced by our solitary command of the landscape.   We all appreciated the lack of crowds and it made for a very memorable walk.
This…….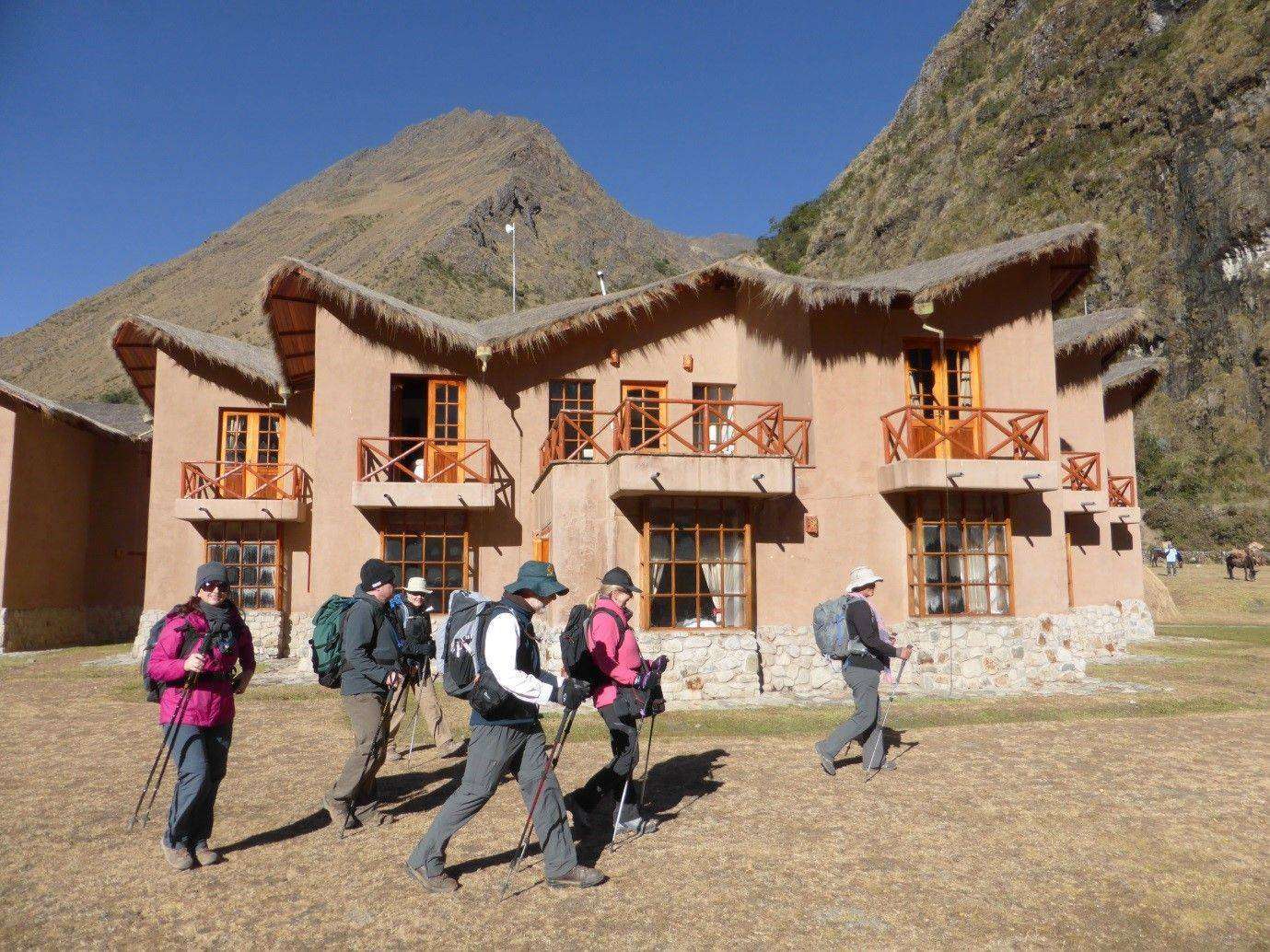 Or this……………….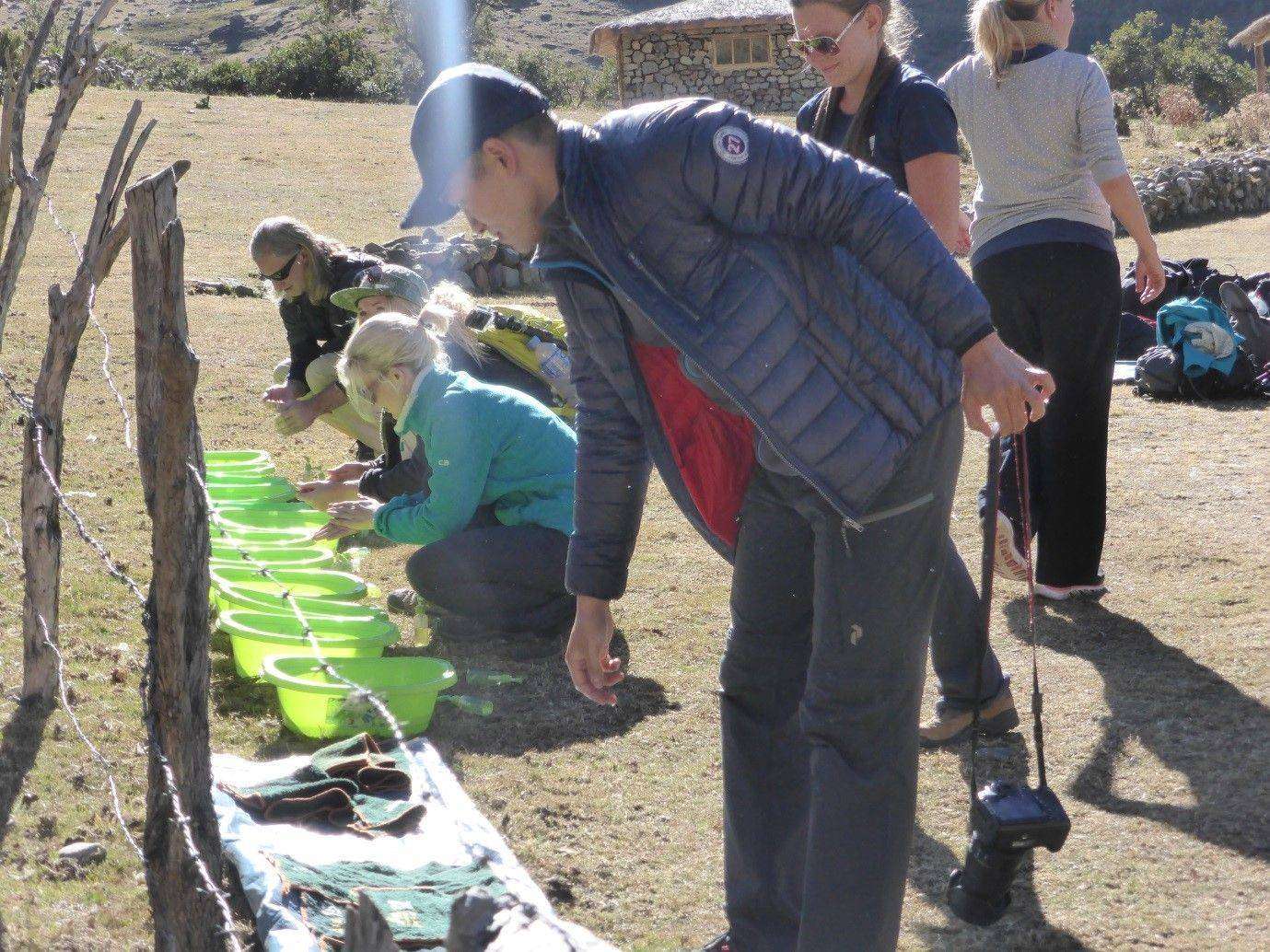 However you sleep at night the walk is a strenuous one……..but much nicer to have this at the end of the day………
Or even………………………
Starting in Cuzco with an evening briefing about the trek and preparations for it, MLP guide the group through an amazing experience.  We set off early the next morning for a two and a half hour drive on good roads with a great driver to the small village of Mollapeta.  From here our main luggage is loaded on to our pack horses and we shake ourselves into our day pack, extend the walking poles, check the hydrations packs and set off on foot into the unknown.  We will spend most of the early days of the walk gaining altitude eventually topping out at 4600 metres on Day 3.  So it's fair to say the walk consists of some ups and downs.  There is also a mixture of shorter and longer walking days keeping the trek manageable for the average fit walker.  It is by no means easy but you don't have to be a marathon runner to tackle the walk either.  Some fitness preparations and some careful planning to gain some altitude in the days before you start the trek is all that is needed.  Our group flew from Lima to Arequipa (2380 m), incorporated Colca Canyon (passing over 4800 m on the road to the canyon), staying in Puno (3400m) for two days and Cuzco (3400m).  By the time we were on the trail everyone was handling the high altitude extremely well.
On a couple of the longer days two of our group members opted to make use of our 'ambulance' ponies and this got them through a sore knee on the day and an upset tummy (too much guinea pig the night before perhaps??).  Yes, you are not imagining that……I DID say guinea pig! This little creature is indeed 'on the menu' in Peru.  The local villagers have the little furry creatures in their kitchens and they scurry around the warm cooking stoves.  On special occasions, our guide told us probably four times a year, a birthday, a religious special day, one of them goes into the pot!
This might be an appropriate time to mention that the Peruvian cuisine is amazing.  Regardless of the novelty of guinea pig the entire food experience we had in the country was astonishing.  Very innovative, stylish and imaginative, the food at the restaurants that we ate in and at the lodges was consistently exquisite and elicited gasps of exclamations from the entire group.
Some of the restaurants we discovered were remarkable as well.  Some notable ones were Huaca Pucllana, set amidst the floodlit archaeological excavations of an Inca temple, La Rosa Nautica set at the end of a pier where we ate delicious food to the sound of the waves crashing against the shore and watching the twinkling night lights of the town sparkling through the window and the hotel restaurant in Aguas Calientes nestled between two train lines at the railway station where again we ate amazing dishes while waving to the passengers in the passing trains slowly chugging by.  It sounds bizarre and indeed it was but surprisingly delightful!
I fear we took more photographs of our food than we did of llamas!!
On Day 4 of our trek we started to leave the high altitudes behind and our paths now meandered through lush jungle forests supporting vines hanging with exotic fruits.  On our way to our last lodge we passed through a local coffee plantation run by the local villagers as an organic co-operative.  We roasted some of the beans and had a cuppa with them before walking our last 100 metres for the day to our cosy lodge close by.
Just when we thought it was all downhill from here, the last day had a big surprise for us.  Yes, the first three hours was uphill!   Not fair!  But this took us to a high ridge and a very simple but charming lunch stop restaurant from where we could look across the Aobamba river valley to a view of Machu Picchu that few have likely seen.  On the ridge across the valley, at first shrouded in low cloud that later cleared was the ancient site we had come all this way to see.  The ruins of the great Inca site
On this trek we walk down to the valley to catch the train to Aguas Calientes and the following day we visit the ruins we have all been striving towards for the entire trek.  And it is certainly worth it!!
Below is a sample itinerary of a 17 Day Lodge to Lodge Salkantay Trek that Peregrine Travel Centre can organise for you:
Example Itinerary:
Day 1              Arrive Lima
Day 2              Lima to Arequipa
Day 3              Half day tour of Arequipa
Day 4              Arequipa to Colca Canyon
Day 5              Colca Canyon
Day 6              Colca Canyon to Puno, Lake Titicaca
Day 7              Full day tour of Uros and Tequile Islands
Day 8              Puno to Cuzco by tourist bus
Day 9              Half day morning tour of Cuzco, afternoon trek meeting
Day 10-16       Salkantay Trek to Machu Picchu, return to Cuzco
Day 17            End Cuzco
Tour Includes
Twin share accommodation with private facilities at hotels as listed in the itinerary
Huayna Picchu Climb at Machu Picchu
Daily breakfast and meals – as shown in the itinerary
Transfers airport/hotel/airport – as shown in the itinerary
Sightseeing tours with English-speaking guides – as shown in the itinerary
All airport transfers are on a private basis apart from those associated with the Mount Salkantay trek which are on a shared group basis
Lodge to lodge Mount Salkantay Trek includes
Service of a bilingual guide from Day 1 to Day 7. Tours are led in English.
6 nights twin share accommodation (5 nights in Lodges and 1 night in Aguas Calientes)
Transportation of personal belongings on the trek by packhorse/mules and/or porters
Guided visit of Machu Picchu (includes entrance and transportation to the site)
Train tickets (Hydroelectric station – Aguas Calientes & Aguas Calientes –– Cuzco)
Note: – At the lodges filtered and sparkling water, tea and coffee, juice and soft drinks are provided free of charge apart from in Aguas Calientas where only filtered water tea and coffee are provided
USD6885 per person twin share (land only) based on 2016 rates.