We believe there are many reasons why it's better and more straightforward to book your travel with an ATAS accredited travel agent, compared with booking directly.
Travel agents are trained product and destination experts. They live and breathe travel every single day and have an excellent network of travel suppliers to tailor make a holiday especially for you; your budget, your likes and your travel desires!
The benefits really come into sharp focus when things go wrong, or when plans change, which seems to happen more and more frequently these days.
Here are some reasons why you might like to consider using a travel agent like Anywhere Travel the next time head overseas;

Our extensive knowledge. We've got the inside knowledge on every type of holiday. We can guide you on how long to allow for travelling, the best way to get around once you're there, how much time you will need in each city etc.
Our advice is invaluable. We are trained product and destination experts. We can provide you with plenty of ideas on where to go and many useful tips that will make your holiday extra special.
Industry accredited. A quality, trusted business accredited through the industry accreditation scheme ATAS. We've met strict criteria of professional standards & abide by Australian Consumer Law.
We act as a consumer advocate. If there is a problem during the trip, we clarify the fine print on penalties and restrictions.
If your flight is delayed or cancelled, simply call us and we will assist rearranging your travel plans with limited disruption and hassle to you.
Extensive industry contacts. We live and breathe travel and have an extensive list of contacts. We receive the latest information regularly from the travel community on hotels, airlines, cars, visa and other travel services.
Convenience! We offer the convenience of one-stop shopping to handle all facets of the trip, saving you the trouble of coordinating them yourself. We save you from the stress of worrying whether you have covered everything you need to arrange.
Documentation. We'll help prepare and organise your documents. We know your preferences, and can securely store your details including passport number and frequent flyer details to save you retrieving them each time you travel.
Travel experts. We are equipped to manage complex itineraries and take the hassle out of doing it all yourself. We give advice and assistance on such things as visa applications and USA visa waiver requirements.
 We are here for you. It's your holiday, so you get to tell the agent exactly what you'd like. You're the boss!
As you can see, there are plenty of great reasons why it's simpler, easier and more time efficient to arrange your travel through an industry accredited travel agent.
Anywhere Travel is ATAS accredited. This means you can confidently make bookings through us knowing that that all the fine details are looked after with accuracy and care.
ATAS accredited agents are trusted, reliable and trained travel professionals. Booking with an ATAS accredited agent means you're in safe hands and can travel with confidence.
Peregrine Travel Centre is an ATAS accredited agency.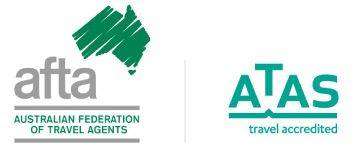 This blog is courtesy of ATAS Blog