Written by Peregrine Travel Centre SA team member Adriana.
The travel bug. You either have it, or you don't. Some people have the desire to travel in them from a young age, and if you're lucky enough to embark on an adventure while you're in your 20s it may very well be one of the best decisions of your life.
Whether you choose to backpack across the world independently for a year, head off on a shorter pre=planned adventure with your mates or take 2 weeks off to relax by a beach somewhere tropical – the experience can be rewarding in more ways than one.
Here's why I think everyone should experience travel in their 20s (and beyond!)
You'll meet new people
One of the best things about travel, are the people you meet along the way. Whether it's fellow travellers or locals, having conversations with people from different countries and finding out about how they live is all part of the fun. I've made friends from all over the world, some of which I regularly stay in contact with even now long after the trip has finished. Even the people who I may not talk to regularly, have still had an impact on my life. That's one of the great things about a small group tour, the other travellers you meet on your trip, it's a great option for your first taste of overseas travel.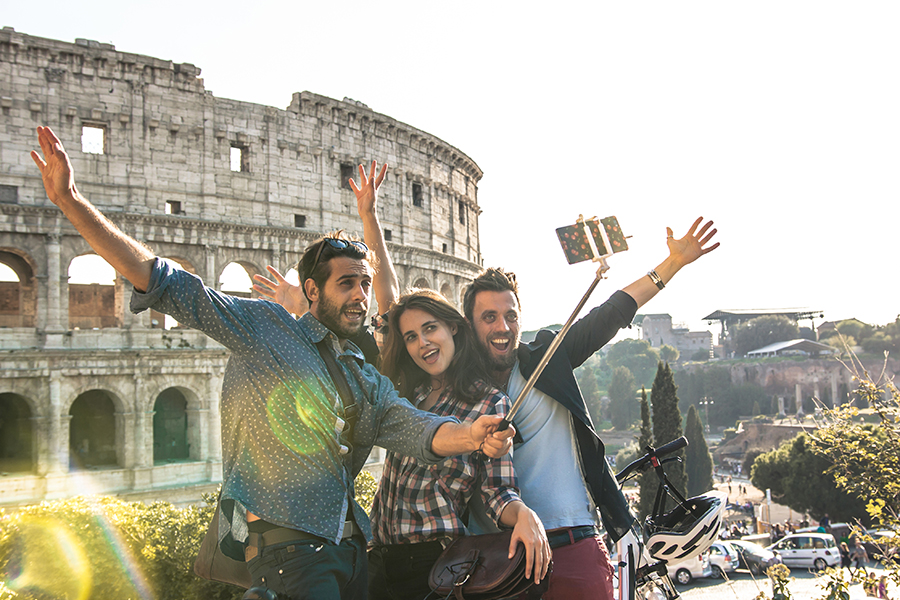 You're happy to do things on a budget – and usually have less expenses in life to hold you back
When you're in your 20s you're a little more willing to stay in cheaper accommodation, share hostel rooms with strangers, rough it out camping or live off street food. This means travel is generally a lot cheaper, and you can fit a lot more in with the budget you have. Most 20-year old's don't have a mortgage, bills, loans or people dependent on them, which, if you're working full time already, can mean you have the ability to save more to spend on your travels.
Plus, if you're between the ages of 18-29 there are some great tour options that allow you to tick some great destinations off your list at affordable prices!
You'll say yes to new experiences
For most people, we're more adventurous in our 20s. As we get older, some of us tend to think twice about jumping out of a plane, flinging yourself off a bridge with a bungee cord attached, eating random insects (local delicacies) or hiring quads and driving around in a foreign city. Some of the activities you'll experience as a younger traveller may change as you get older and become more aware of the consequences. Of course, we aren't saying to head off on an adventure and be irresponsible because you're young – but take advantage of your fearlessness, your desire to try new things and your energy levels being high (even off 4 hours sleep).
You never know, if you start being adventurous at a young age it may very well continue on into your 30s, 40s, 50s and beyond!
You'll be left with life-long memories and stories
The memories I've made throughout my travels are some of the best moments of my life. I often scroll through albums of photos and smile reflecting on some of the incredible things I've been lucky to see and do over the years and the amazing friends and people I have met along the way. On the trips I've taken with friends, we often reminisce about funny moments or travel stories and even years later those moments are still as vivid as the day they happened. You'll take these moments with you and look back on memories that you'll cherish forever. You never know what lies ahead, and if for some reason travel isn't an option in later years the trips you take in your 20s will be some of your favourite.
They'll inspire you towards taking another trip one day, whenever that time may be.
It'll change the way you see the world (and yourself)
I think the most important thing I've gained from travel is the way it has made me look at the world, the people in it and my place in it. A sense of perspective, of understanding how big the world is and how much more there is to life than the place you call home. You learn to not take for granted the lifestyle we're fortunate to have here in Adelaide, and talking with not just the locals but other travellers from all over the world, it makes you appreciate the simple things (work/life balance, health care, leave entitlements & the ability to be a home owner to name a few).
As cliché as it sounds, it is most definitely true, travel changes you! And if you're lucky enough to learn these lessons in your 20s it can really help you take on whatever lies ahead in life. If you don't like travelling, that's fine, it's not for everyone – but my advice is to at least give it a go once!
Travel is a passion for all of us in the office, and one of the benefits of booking your travel with a travel agent is that you get our passion and excitement put into the itineraries we plan for you. If you're looking to take your first adventure, contact our team of consultants who will be happy to help you ignite that inner travel bug!