Original post featured on Geckos Tales, by Bridget Kapinus.
Southeast Asia is a traveler's dream. It really does have all the ingredients you could want in a trip abroad: stunning beaches, dirt cheap food, buzzing cities, and enough temples and ruins to leave you cultured for life.
It's no surprise it's popular. We can pretty much guarantee you know at least a few people who have backpacked there and then come back a happier, more sun-kissed version of themselves.
But which places are truly worth a visit? Where can you find fewer crowds? And where are the more secluded spots? This list will help you out, so get excited and get adventuring:
Hue, Vietnam
No, not a color. Hue (pronounced 'Hway') is a historic little town in central Vietnam that does not get nearly as much attention as it should. Just over an hour flight from both Hanoi and Ho Chi Minh City, Hue was once the capital of Vietnam and despite the American War, still maintains many of its imperials charms.
Not only can visitors roam between what seem like endless historic ruins, most of which are designated UNESCO World Heritage sites, but the the city's prime location on the aptly named Perfume River means the views are beyond picturesque on a clear day.
Experience Hue on this 15 day Vietnam highlights trip.
Krabi, Thailand
We've all heard of the tropical Thai paradise that is Phuket – hence the crowds and high (well, relatively) prices. But if you are willing to go a bit more off the beaten path, Krabi is calling your name. Every bit as beautiful as Phuket, Krabi's stunning white sand beaches, towering limestone cliffs, and hidden coves are just waiting to be discovered.
What's more, even the most famous of beaches here, Railay Beach is rarely too crowded, giving it an almost prehistoric paradise sort of feel. If just lounging on the beach isn't your cup of tea, don't worry. Krabi is one of the most amazing locations in the world for rock climbing.
Palawan, Philippines
It is arguable that the Philippines in general are completely underrated and under-appreciated. As a whole they are tropical islands with amazing beaches and tons of vacay-worthy activities. Of the group though, Palawan is by far the gem… so much so that it has been voted the best island in the world multiple times.
This tiny slice of paradise not only has sparkling emerald waters, tiny fishing villages, lush mountains, but some of the best scuba diving spots in the world. Visitors here can run into rare purple crabs or dive among pristine shipwrecks all in one afternoon.
Bagan, Myanmar
Although Bagan is one of Myanmar's main attractions, the country as a whole is so tourist-free (it only recently opened up to the world) that you can browse the temple town with no distractions whatsoever. The entire site is truly stunning, and depending on the time of year, you can take a hot air balloon ride over the temples for an even more magical experience.
Because the country is not super geared up for travelers, be prepared for undiluted, authentic charm. Yes, this means no ATMs or Starbucks shops near the temple complex, and none of the nightlife that somewhere like Siem Reap has. But visit Bagan at sunrise and you won't even notice – it's that special.
Discover Myanmar on this magical 13-day trip
Kuala Lumpur, Malaysia
Malaysia doesn't make it on to many travelers' bucket lists – considering the colorful and lively nature of Kuala Lumpur, it's quite a shame. Kuala Lumpur, the capital city, is an eccentric mix of tall skyscrapers intertwined with colonial buildings and lush banyan trees. And the city's buzz – oh, it's addictive.
Perhaps most enticing for travelers is the mouth-watering street food scene. Traditional coffee shops and food stalls line most streets, enticing visitors to try a tasty bite of the freshly-cooked food. Shopping is also a big draw here with options ranging from glitzy mega malls to traditional markets filled with locally-made handicrafts.
Visit Kuala Lumpar on this amazing trip from Bangkok to Singapore!
Chiang Rai, Thailand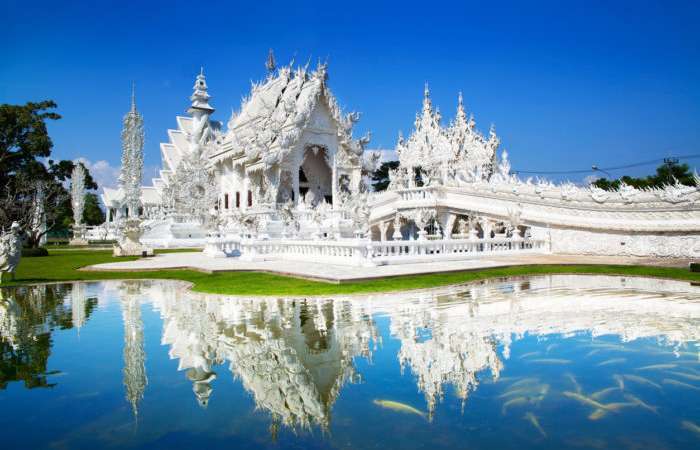 In my opinion, Chiang Rai is the most overlooked destination in Thailand. This small but enchanting city in the far north just offers so many activities and options. Not only are the local cuisine and accommodations outstanding, but (considering its lesser-known status) it's really good value. (For more hidden gems in Thailand, check out this article.)
A personal favorite here is what's known as the Golden Triangle – the point at which Thailand, Myanmar, and Laos all meet. As such, visitors can easily take day trips into remote areas of Myanmar and Laos – places that most tourists never get the chance to see.
Check out the wonders of Chiang Rai and Northern Thailand on this trip
Luang Prabang, Laos
The spiritual epicenter of Laos is nothing short of remarkable. Trust. Often overshadowed by other Southeast Asian metropolises (i.e. Bangkok and Ho Chi Minh City), Luang Prabang is more like a large, friendly village than your typical city. Don't let that deter you though. Despite having just four main roads, it's known for its stunningly well-preserved Buddhist temples and monasteries.
The cuisine is pretty great (start embracing the country's staple, sticky rice, like, now) and check out the biking, hiking and kayaking opportunities too. Another draw is the alms giving ceremony. Each morning, like clockwork, hundreds of monks walk the streets collecting food from both locals and visitors alike.
(Image credits from top to bottom: Intrepid Travel, iStock x2)