Our team member Louise recently embarked on a trip in Kenya with the experts at African Wildlife Safaris. She was fortunate enough to check out some of the amazing luxury accommodation in the region and has put together a guide for us below.
You can find out more about travel to Kenya by reading our blog post with Michael from African Wildlife Safaris.
Mount Kenya Safari Club
Our first stop (after a night in Nairobi on arrival) was Mt Kenya Safari Club, which was a 4-hour drive through the Rift Valley from Nairobi. This exclusive retreat covers 100 acres and overlooks Mt Kenya, fascinatingly it straddles the Equator! There are plenty of accommodation options, with 115 standard and superior guest rooms spread out around the grounds. The superior guest room was spacious, with a french balcony and featured an open fire place, which you could request to have lit and ready for you to enjoy in the evenings. Our room overlooked the lush green gardens, and there was a heated pool, gym facilities and the grounds are also home to an animal orphanage. A highlight was the daily bird feeding at 3pm, where we saw a variety of species visit for their daily feed.
Elephant Bedroom Camp
From Mt Kenya it was a 3-hour drive to Samburu National Park, where we stayed at the Elephant Bedroom Camp. Set along the banks of Ewaso Nyiro River, we stayed in one of fourteen permanent tents overlooking the river, with a personal plunge pool on the balcony. The spacious tents have a rustic feel with a hint of colourful African touches, and there is also a spacious dining and lounge tent with a large verandah with spectacular views. This camp is not fenced, which means animals large and small have the ability to come right into the camp, including a family of elephants that we had visit during our stay.
Tipilikwani Camp
A short flight from Samburu Airstrip to the Masai Mara. Flying with Air Kenya, on an 18-seater plane, we had spectacular views of Lake Navaisha and Lake Nakuru on the way. We arrived at Tipilikwani Camp, situated on the banks of the Talek River and overlooking the plains of the Masai Mara, after a short 30-minute drive from the airport. This luxury camp is a sister property to Elephant Bedroom Camp, with twenty warmly decorated tents all with river frontage and a stand alone bathtub in the family tents, in addition to showers. This camp featured a restaurant, pool, firepit and a lounge/bar area and pride themselves on their excellent food, personal service and traditional Kenyan hospitality.
Kichwa Tembo Masai Mara Tented Camp
Heading off to our next camp in the Masai Mara, we enjoyed a game drive a long the way spotting a pair of Ostrich. Kichwa Tempo is a beautiful &Beyond property, laid out along the edge of the Sabaringo River. The camp boasts a garden area, firepit, interactive kitchen and vegetable garden, a stunning pool area and a range of contemporary and stylish accommodation options – in a secluded camp. There are twelve classic tents, 20 superior tents and 8 superior view tents including 3 family suites. The property has open vehicles to enjoy game drives and stairs for those who need extra assistance getting in and out of vehicles.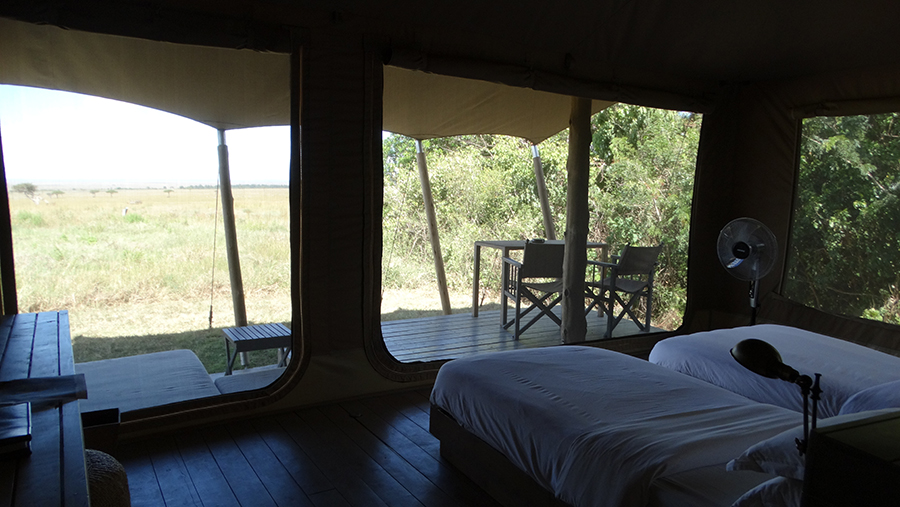 Bateleur Camp at Kichwa Tembo
There is another &Beyond property just a short 5-minute drive from Kichwa Tembo, at the foot of the Oloololo escarpment. With only 9 luxury safari tents and all meals, drinks and game drives included (including an open bar in each tent and a personal butler)! A beautiful bar and outdoor area for guests to enjoy and another incredible pool area to relax and look out for wildlife in the distance. They also have gym and spa facilities available for guests. From this camp we visited the Mara River (one of the rivers where the famous migration crossing occurs) and we enjoyed a BBQ dinner in the bush after a sundowner at the Mara River watching the hippos!
All these properties were incredible and offer visitors a truly magical experience in Kenya. During the months of the great annual migration, these properties are a spectacular spot to witness the millions of wildebeest and zebra as they make their way into the Mara ecosystem. There is also the option for guests to pay and experience a hot air balloon ride from most of the camps. Personally, my favourite was the Elephant Bedroom Camp as it was the only property that wasn't fenced, which meant we had some friendly visitors. However, we still had warthog, baboons, vervet monkeys visit regularly, and while relaxing with a drink on our deck, views of larger wildlife in the distance. A lasting memory of my time in Kenya.
If you'd like to know more about travel in Kenya or any of the accommodation listed above, you can contact Louise via our website, through email ([email protected]) or by calling 08 8223 5905.