In travel we use the words 'life-changing' quite a bit, and it's true, most new destinations you visit will give you a unique experience or learning that you take with you into your life. However, trekking in the African rainforest to see mountain gorillas in their natural habitat is a life-changing travel experience that you will never forget.
These majestic creatures will take your breath away and being up-close to them can be both humbling and magical.
We wanted to find out everything there is to know about trekking with these incredible creatures, so we asked the experts at African Wildlife Safaris to help us out with their tips and suggestions.
1. Firstly, where in Africa can travellers trek with Gorillas? Can you tell us a little bit about these destinations?
You can trek in the East African countries of Uganda and Rwanda and the area where the mountain gorillas live spans the border of these two countries.
In Uganda, the gorillas can be seen in the Bwindi Impenetrable Forest National Park, located in the south west corner of the country. The area is a 2 hour light aircraft flight from Entebbe, or 1.5 days of driving. The park covers 331 square kilometres of the Kigezi Highlands at an altitude of 1,190 to 2,607 metres.
In Rwanda, just across the border from the Ugandan park is Parc National de Volcans, situated in the majestic mountain chain of the Virunga Volcanoes in the north of Rwanda. It is a 3 hour drive from Kigali.
2. What can travellers expect? Is it a tough trek requiring training beforehand?
 You can trek any time of the year – but best to avoid the wet season, April to mid-June. Two nights for the gorillas is sufficient allowing you one full day for the trek. If you wish to trek twice then an extra day will be required.
On the morning of your trek, you are assigned with a guide, trackers and porters to carry your day pack. They place 8 travellers in each group and dictate the pace you walk and assist where possible. The location of this high mountain range (approx. 1000-1500m) is thick with vegetation. Hiking up the mountains is always taken slowly to adjust with the altitude. Shortness of breath is not uncommon, there are many stops en route to catch your breath. It can be uneven underfoot as often there are no proper paths, and muddy if wet. The trackers may need to machete their way through the vegetation in order to move forward. The treks can be tough – it is expected that travellers need to have a good level of fitness with the right gear – sturdy hiking boots with ankle support, long sleeve shirt to cover arms, garden gloves is handy for protection against stinging nettles. The duration of the trek varies from 1 hour to 7 or 8 hours depending on where the gorillas may be found. In Rwanda guides may be allocated to less able visitors to gorilla groups which they know are closer to the park gate.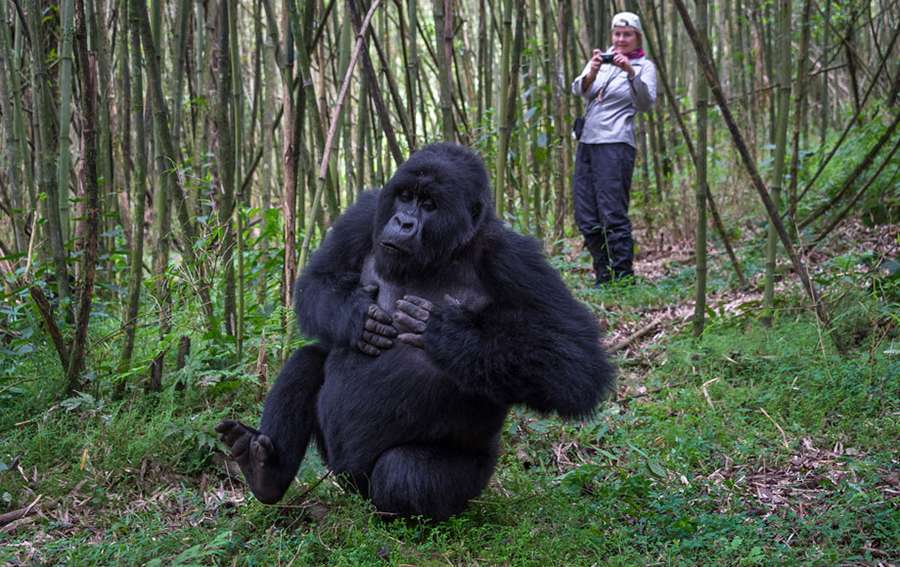 3. Tell us a little about what it's like seeing these creatures up close?
The moment your guide tells you that the trackers have found the gorillas, all weariness and shortness of breath immediately leaves you, and you are now in total excitement of the expectation to be amongst them. It is an absolutely wonderful moment that you never forget. When you do find them and see they are looking back at you, it is just joy. You have one hour with them but it goes so quickly.
Usually they continue feeding and don't worry too much about their human visitors, but the young ones can be much more inquisitive and active and come very close. The size of the gorillas, particularly the male silverback, can be a little daunting, but these are gentle giants. Without doubt it is an unforgettable and moving experience for everyone.
4. What is done to protect the Gorillas in these areas? Do travellers need a special permit to visit?
The cost of your permit – US$600 in Uganda and US$1500 in Rwanda – goes to the National Parks. This provides protection for the mountain gorillas in the form of anti-poaching units, as well as educating local communities with regards to the importance of preserving the rainforest and protecting the gorillas. They also support local communities with water and agricultural projects, and training so that they can benefit from the income that eco-tourism brings.
5. Are there any unique or special lodges/camps travellers should stay at?
In Rwanda we recommend Bisate Lodge and Sabyinyo Lodge as high end boutique accommodation options. If you're looking for a more moderate option, Mountain Gorilla View Lodge is a great option.
In Uganda, Sanctuary Gorilla Forest Lodge is an incredible high end lodge for travellers. Because of the lodges location, it is often frequented by gorilla families! There are many lodges in the moderate category in Uganda, one we recommend is Buhoma Lodge.
6. What are your tips or advice for travellers wanting to trek with Gorillas?
It is not a stroll in the park. The fitter you are the more you will enjoy the adventure, so try to do some training before you depart to better prepare yourself. It is certainly one of the experiences of a lifetime.
As you can see, this is certainly an experience worth ticking off your travel bucket list. We have consultants who have trekked with Gorillas in Africa previously and would love to help you put together the perfect Gorilla trekking experience with the help of our friends at African Wildlife Safaris. Contact us to find out more.
All images supplied by African Wildlife Safaris.