The world is home to some incredible animals – and there is nothing more amazing than being able to see these creatures up close in their natural habitat! We are pretty fortunate to have access to a range of experiences which allow us as travellers to see animals in the wild and learn about them through local guides and experts.
We're passionate about wildlife here at Peregrine Travel Centre SA and we make sure the tour operators we recommend to our clients are all responsible when it comes to wildlife travel – so that our travelling to visit these incredible creatures doesn't impact their environment and their behaviour .
We've put together our top 10 wildlife experiences around the world, some that we've already experienced and others that are on our bucket list. The best part is, not only will you get to see these wonderful animals – you'll be able top explore some truly remarkable destinations at the same time!
Here they are (in no particular order):
Whale Shark in Mexico
The whale shark is one of the largest known existing fish species, and these majestic and beautiful looking creatures are even more incredible up close. For those with a fear of sharks, don't worry, the whale shark is a gentle giant and don't pose a threat to humans who choose to swim in their waters. They live in warm tropical waters, and Cancun, Mexico is one of the best places in the world to have this whale shark experience. A day trip from Cancun will take you to explore the area these magnificent creatures call home and you'll get to swim with them and get up close (although touching them is not allowed). The best time of the year to have this experience is June – September and it's the perfect opportunity to explore Mexico at the same time.
Why not take off on Intrepid's 15 day Mexico Unplugged tour or Peregrine's 15 day Mexico In Depth tour – both tours finish in Playa Del Carmen, which means you can easily add Cancun at the end to swim with Whale Sharks!
Polar Bear in the Arctic
There are many things in life that aren't guaranteed – and seeing the elusive Polar Bear in its natural habitat is one of them. It is true that these creatures aren't always easy to find but there are so many other wonderful animals to encounter – beluga whales, arctic fox, narwhal, walrus and muskoxen there really is no reason why you shouldn't try! The north is also home to interesting and unique communites; a rich history full of Viking legends and Inuit folklore, the possibility of the Aurora Borealis and spectacular scenery of glaciers, icefields, fjords and towering rocky peaks.
There are a great range of Arctic Voyages available, with something to suit all travel styles and budgets. Take a look at some of the great range of tours here.
Emperor Penguin in Antarctica
The tallest and heaviest of all the penguin species, the Emperor Penguin is native to Antarctica. The only place that they can be seen in the wild is if you visit Snow Hill in the Weddell Sea. It's important to know not all Antarctic expeditions visit Snow Hill, so if you do want to catch a glimpse of this intriguing species of penguin then you will need to make sure you pick an expedition that includes this on the itinerary. If not, you will still be able to see an array of other penguin species on your travels in Antarctica. Antarctica is an amazing destination to visit, with so much to be in awe of and learn on your visit and an experience you will never forget!
Peregrine have a special 14 day Antarctic expedition that explores Snow Hill in search of this unique emperor penguin colony, with the help of onboard experts!
Sloth in Costa Rica
Costa Rica is a nature and wildlife enthusiasts dream! With versatile landscapes of volcanoes, rainforests and pristine coastlines it's a postcard destination just waiting to be explored. The sloth is a fascinating species, adorable in their slow movements and appearance, and to see one just hanging around the rainforest is a memorable experience. Not only home to sloths, Costa Rica is one of the most biodiverse countries in the world, with half a million species of wildlife!  On your travels keep an eye out for the colourful Toucan, or an ear for the Howler monkey – both favourites of ours that can also be spotted in Costa Rica.
You can explore Costa Rica on Peregrine's 15 day Amazing Costa Rica tour, Intrepid's 15 day Classic Costa Rica tour  or if you're after a unique family holiday Intrepid have a 15 day Costa Rica Family Holiday!
Giant Tortoise in the Galapagos Islands
The Galapagos Islands is considered one of the world's leading destinations for wildlife and nature lovers! This archipelago of islands off the coast of Ecuador is made up of a variety of landscapes including volcanoes, pristine coastlines and rocky terrain. The best way to explore the Galapagos Islands is by boat and we recommend spending at least 10 days in this magnificent part of the world. Now the Galapagos Islands is home to an array of wildlife including the sea lion, green sea turtle, blue-footed booby, finches, marine iguana, great blue heron, American flamingo and much more! Our pick though, is the graceful and magnificent Galapagos giant tortoise – native to the islands, they are the largest living species of tortoise!
You can explore the Galapagos Islands on Peregrine's 10 day Classic Galapagos tour.
Gorillas in Rwanda
Africa is home to the last remaining endangered mountain gorillas in the world. These breathtaking creatures live as families in the dense jungles of Uganda and Rwanda. Hiking through the Volcanoes National Park to come face to face with these majestic creatures is the ultimate wildlife adventure! You can't approach the Gorillas, and for good reason, but you will get close enough to truly take in their presence and curious baby gorillas have been known to come up and inspect visitors. Visitor numbers are strictly controlled through the high price of permits and the limited number of tickets available on a daily basis.   But it is not just the gorillas you will see in Rwanda. Home to other primates, magnificent birdlife and all the African staples – giraffe, buffalo, zebra, lion and elephant, this country is a welcoming and wonderful destination.
You can see the Mountain Gorillas of Rwanda on Peregrine's 4 day Independent Experience or Intrepid's 4 day Mountain Gorillas of Rwanda trip.
Snow Leopard in the Himalaya
The Snow Leopard is one of the world's most elusive animals – but the search for them is in a beautiful and unique part of the world! In the winter snow leopard descend from the high Himalaya in search of food, this descent happens in some of the most remote and mountainous regions of Central Asia. It's not an easy spot to travel to, however along the way travellers will have the opportunity to see other rare wildlife, meet the locals from some of the most isolated Himalayan Buddhist communities in the region and do some winter walking in destinations that are for much of the year cut off from the rest of the world.
Exodus Travels have a specific 14-day walking tour which is focused on searching for the majestic Snow Leopard! Not only will travellers search for this beautiful creature, but they will get the chance to experience some special cultural festivals along the way.
Orcas (and Grizzly Bears) in Western Canada
We know we've popped two animals into this one, but there are some great travel options which will allow you to see both of these popular creatures in Western Canada! The intriguing Orca (for those of us who grew up with the movie Free Willy!) and of course the popular Grizzly bear both call Western Canada home, and in the small town of Port McNeill on Vancouver Island, Canada there is the option to see both of these animals up close and in their natural habitat. Canada itself is a spectacular destination, and from the west coast to the east coast the incredible and diverse scenery, outdoor activities, wildlife, impressive lakes and cultural heritage will provide the perfect backdrop for an amazing holiday. What's great about Canada is that there's no one time to visit, whether you want a winter getaway to hit the slopes or prefer to visit in autumn to catch a glimpse of the colourful scenery – it's just as impressive year-round!
Adventure World have a fantastic 5-day package available to stay at Orca Waters Base Camp in Port McNeill – this base camp is located on killer whale travel routes and quite often visitors will also get to see humpback whales feeding within sight of the camp! During this 5-day stay visitors will also have the opportunity to head off up Knight Inlet to search for Grizzly bears hunting along the shoreline among the forest!
Orangutan in Borneo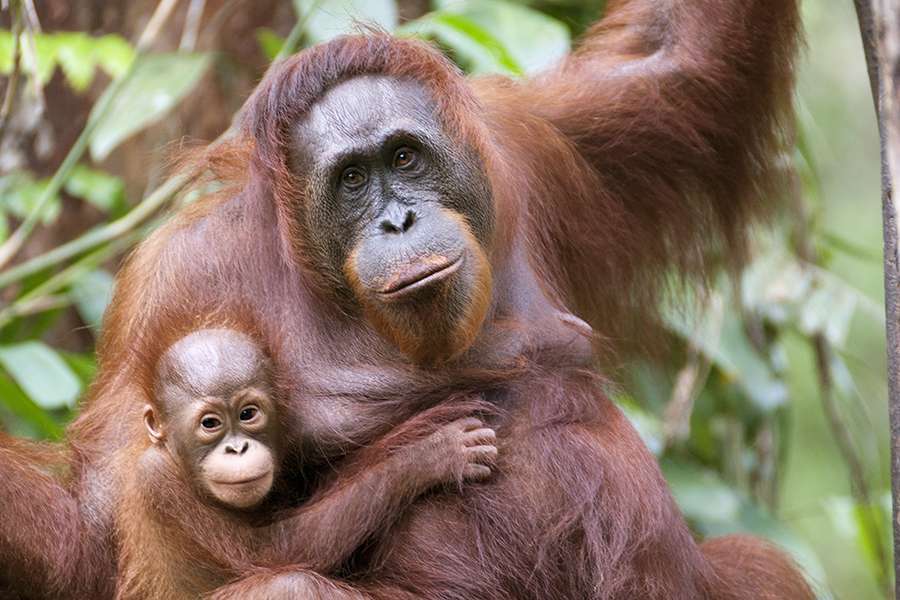 The beautiful rugged island of Borneo in South East Asia is known for its beaches, rainforests and fabulous wildlife – none more so than the orangutan! Borneo and Sumatra are two of the only places in the world where orangutans can still be found in their natural habitat and these intelligent and fascinating animals are worth seeing up close. Borneo is a nature lovers dream, with cave networks to discover, dense jungle to trek, Mt Kinabalu to climb and a unique ecosystem to explore.  There is so much that this untouched destination has to offer.
You can truly discover the Best of Borneo on Intrepid's 21 day tour – which includes seeing Orangutans at the Semenggoh Sanctuary! Or if you don't have as long to spend, their 11 day Sabah Discovery offers a great glimpse to this beautiful part of the world.
The Big 5 in Africa
Now we realise we've squeezed five animals into one here – but if you're going on a safari in Africa then chances are you will see at least two or more of these on your travels. What are the big 5? Lion, Leopard, Elephant, Rhinoceros and Cape Buffalo! Africa is a breathtaking destination and depending on the time of year you visit and what area you travel to, your experience can be completely different. There are also numerous other animals that you could encounter along the way which make this trip a wildlife enthusiasts dream. We promise you, Africa is a holiday that will stay with you forever!
If you want to head off in search of the Big 5 in Africa, we suggest Intrepid's 21 day Best of East Africa or Peregrine's . You can explore other Africa tours here.
If you'd like to know more about any of the tours we've mentioned above or find out about other wildlife experiences around the world, contact our team of experienced consultants today!